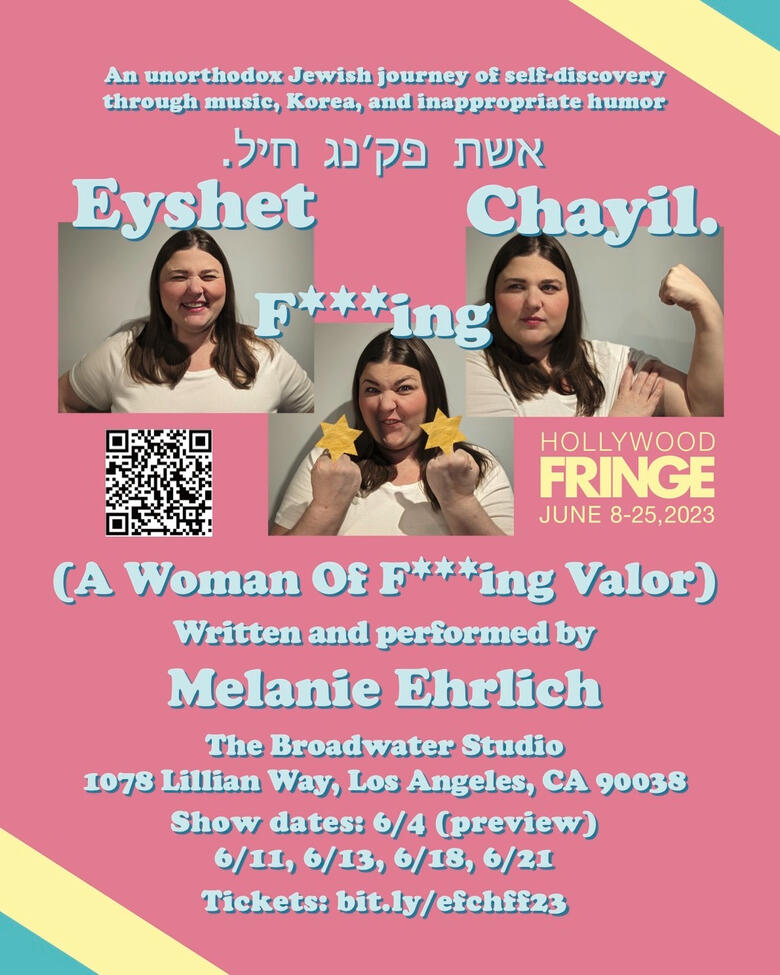 Melodity Productions
We produce media that gives voice to the lesser-explored oddities and fantastical fantasies that swirl around in our brains.
We fill needs in our community and world that make them better.
And we can't wait to show you something new, cool, and probably delightfully weird. It's what we do.
What We're Doing
EYSHET F***ING CHAYIL (A WOMAN OF F***ING VALOR)
Written and performed by Melanie Ehrlich
Premiering at the 2023 Hollywood Fringe Festival
Show dates: 6/4 (preview), 6/11, 6/13, 6/18, 6/21
Click here for tickets and info
A young woman reconnects with her Jewish identity in Korea and returns to the US to find a partner and build a Jewish family. A decade later, she finds herself with neither—and pulled between religious and secular worlds that both don't have a place for her. What is she doing wrong…and can she fix it before she runs out of time for both for good?
Press / Reviews
"Touching, inspiring, and irreverently funny" - BroadwayWorld.com**One "of the more intriguing and befuddling Fringe 2023 titles" - Larchmont BuzzEFC on TheatreMania | EFC on DoLA
Audience reviews
"What a wonderful, heartfelt journey!""I loved how honest and revealing and vulnerable Melanie allowed herself to be in front of us. She takes us on a unique journey I've never seen before.""The show was amazing!!! It makes you feel all the feels! Melanie's performance is compelling, hysterical, touching, thought provoking, magnetic, and just gosh darn awesome. Highly recommended!""Talk about commanding a stage, Melanie was everything in this show.""Engaging, full of heart, and even educational, Melanie's passion for this story shines through, and it's worth a look for that passion alone.""Melanie used mixed media, audio visual components, musical instruments and singing. (She has a great voice.) The most impressive and humbling aspect was the personal story and the way she shared herself with the audience.""Real and raw, funny with a tad of raunch.""This story is a retrospection on culture and inheritance in its most honest form.""Melanie wasn't lying about her musical passion, the tunes in this one are great.""A lovely autobiograpical story about one woman's relationship with Judaism, acting, and herself."Read more: Hollywood Fringe Festival audience reviews (link)
What We've Done
FRUM GIRL ADVENTURES
A colorful, unorthodox exploration of life as a modern Jewish woman. Melodity Productions was 1 of 10 worldwide recipients of the IGDA Foundation's inaugural Diverse Game Developers Fund Prototype Grant to prototype Frum Girl Adventures—the first video game by and about Jewish women.ISABELLE RETURNS
Three friends go out in search of the grave of the local legend, Isabelle Wakeworth. When Isabelle then comes to life, she relentlessly stalks the friends one by one in this short animated horror film. Created for Dead Lantern Productions' "Chills Down Your Spine" horror anthology, now available on Amazon.
Cover art: M.W LeitzelBEARNANA SQUAD
By-the-book Lieutenant Bananagan and heart-on-his-sleeve Sergeant Beartucky navigate their friction and friendship while doing what they do best.
Animated 11-minute comedy series, in developmentDANSE MACABRE
If you had seven minutes with someone you've loved and lost, how would you spend it? Set to the titular classical piece by Camille Saint-Saëns and inspired by true life events, Danse Macabre explores the rawness and complexities of grief, a bittersweet reminder that we are the only ones who can give ourselves closure.
Melodity Collective
The community behind all of our work is the Melodity Collective, a creative incubator and community of people from all backgrounds working to fill gaps and needs in our community not addressed by more traditional means. Some of our initiatives include:
Melodity Presents
A workshop and performance series in which creators identify what makes them unique, creative powerhouses, unleash their voices, and share their stories with the world, culminating in one-of-a-kind performances at some of the most unique venues and festivals in the country. Directed by Melodity founder Melanie Ehrlich, storytellers have showcased their work off-Broadway at NYC's Actors Temple Theatre, online through the Atlanta Fringe Festival, on stage, screen, radio, and beyond, with these performances serving as launchpads for careers in film, TV, animation, and video games.
NoHo Community Shabbat
"More than the Jews have kept Shabbat, Shabbat has kept the Jews."
In 2022, Melodity founder Melanie Ehrlich started the NoHo Community Shabbat series, a free monthly outdoor community Shabbat dinner for local Jewish folks of all backgrounds to meet, eat, relax, and unplug from the demands of the rest of the week. With work not permitted on Shabbat, it's an opportunity to connect with each other not as "contacts" but genuinely on a personal level. All are welcome whether Jewish, Jew-"ish", or Jewcurious.
Visit the NoHo Community Shabbat site to learn more.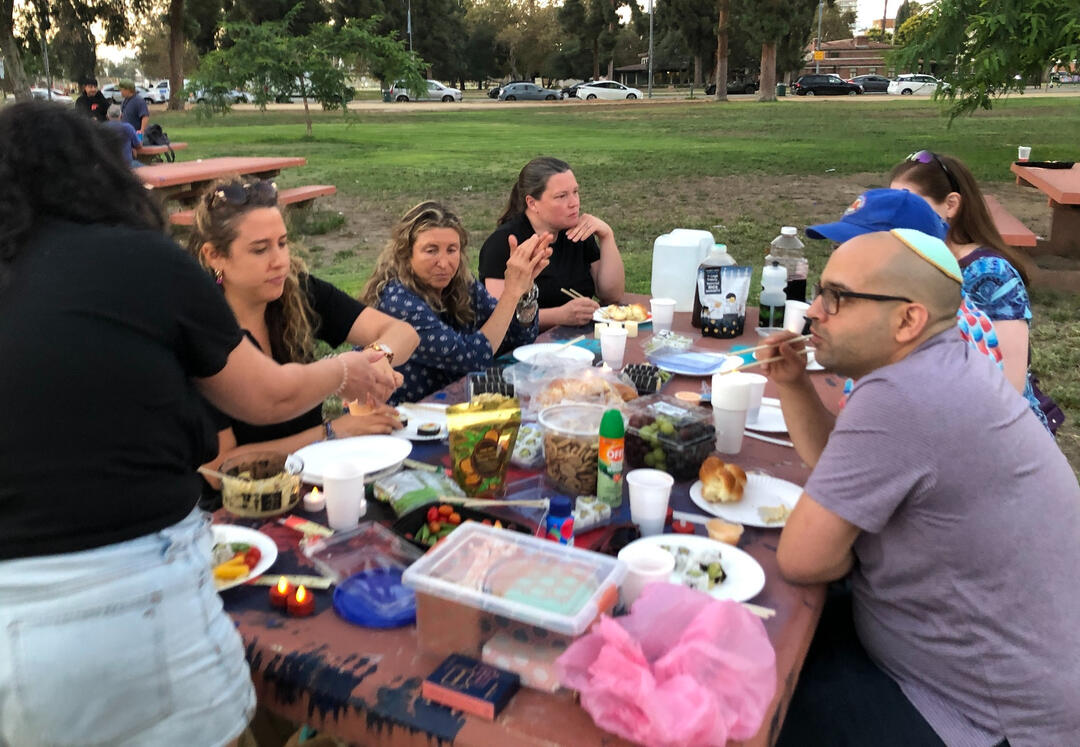 Community Resource List
A free, public resource list to help creative folks of all stripes--from free and low-cost opportunities for creative and performing arts training to help and resources for groceries, health care, entertainment, and more.
Coming soon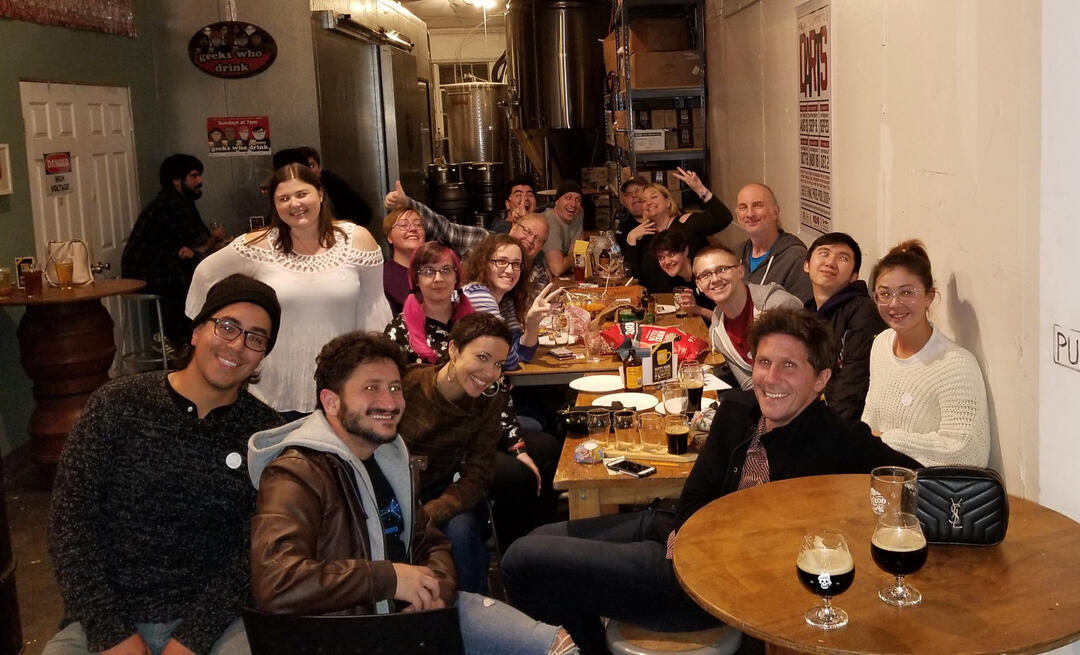 Let's make cool things.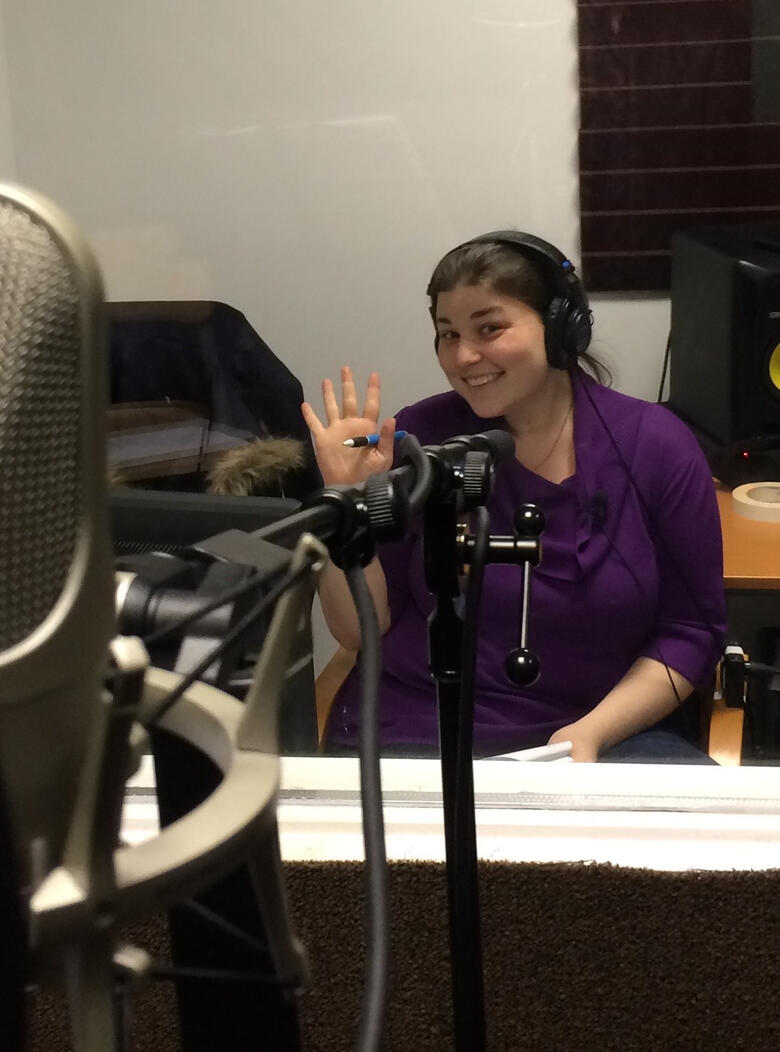 "I wanna thank you for putting together this whole team and pitch and really doing the work to make this fly. I'm just so grateful to be working with you!!!"
-Meira Batya Goodfriend, creator and artist of Frum Girl Adventures*
We love and specialize in directing, casting, writing, project management, sound design, and post-production, with areas of specialty including film, TV, animation, interactive/video games, podcasts/audio plays, and live theatre.We help both productions and individuals achieve their creative goals, including production strategy, career consultations, workshops, speaking engagements, and lectures for creative personal and professional training.Contact us to see how we can help, and sign up for our mailing list below to hear about our upcoming workshops and events. We can't wait to work with you.
Stay connected
Send us something odd
P.O. Box 6021 Burbank, CA 91510 USAEmail
melodityproductions at gmail dot comMailing list
Sign up for the Melodity Productions email list and be among the first to hear news and updates on all things Melodity.
© Melodity Productions. All rights reserved.